Lee & Birch Kalamazoo
Lee & Birch Kalamazoo is Now Open!
When I opened my first store almost 13 years ago I always imagined where this little business I had dreamt up would take me, but obviously I wasn't dreaming big enough because I never imagined opening 4 stores.... but here we are!!
Our new store is located at 7047 W Q Ave in Texas Corners / Kalamazoo. I love the fact that we are located next to 2 of my favorite stores - Pink Lemonade and The Cheese Lady Kalamazoo + we are also directly across the street from the local farmers market.
We have had numerous comments about how beautiful the space is and I have had requests to see more pictures, so here they are!
Lee&Birch Kzoo is located in the old Dave's Glass space (who resided in the space for almost 30 years and has now re-located to a beautiful new building around the corner). We have completely gutted / renovated the entire space + cleaned up the exterior with new black awnings / painted the window trim + doors black / newly designed + paved parking lot.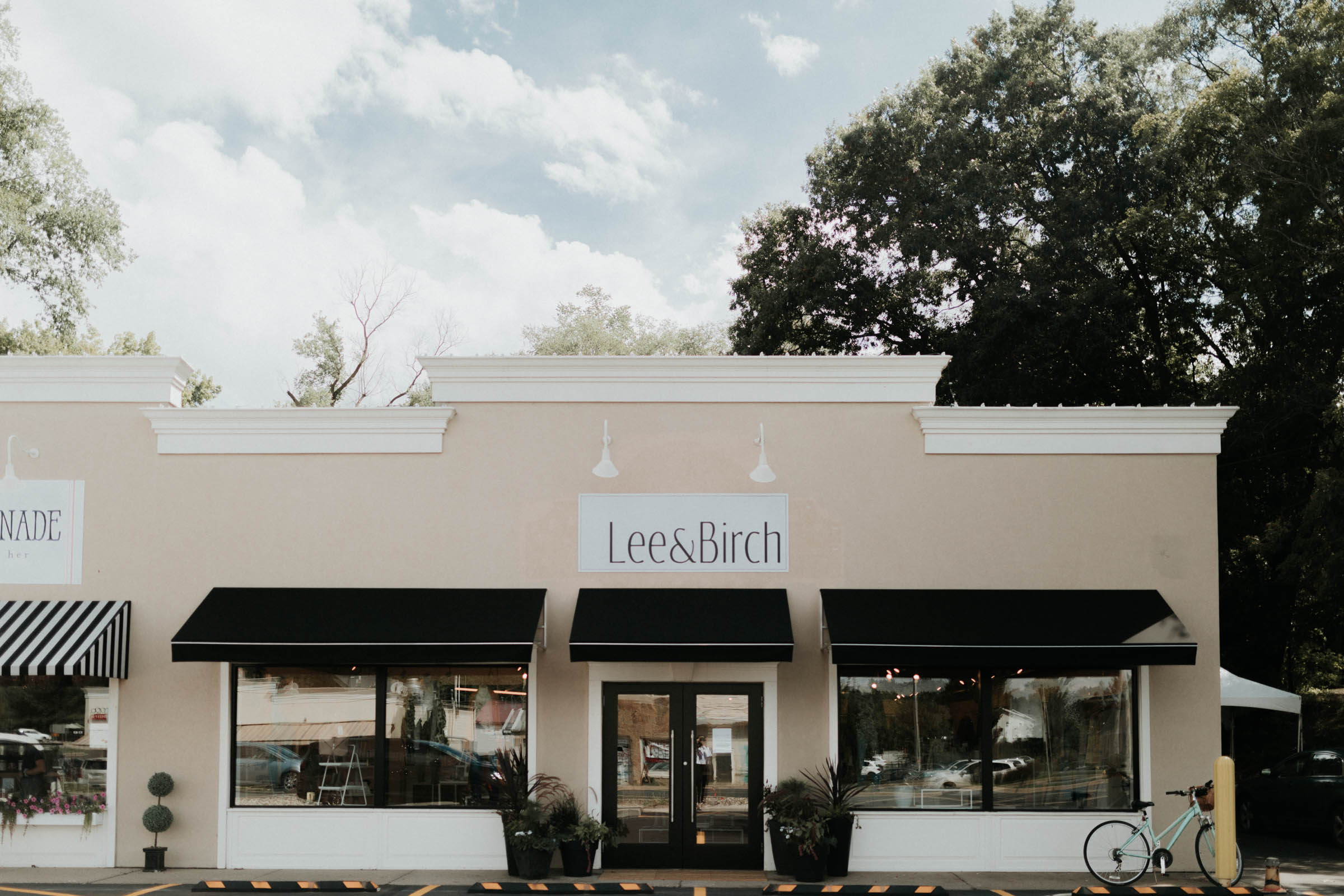 My favorite update to the building exterior is the mural by Paige Rochefort - our Resident Artist / Rockford Manager / Social Media Maven.
When I first visited the space over a year ago and saw the side alley wall, I knew immediately I wanted a mural to brighten up the area (that was once used as the trash / discard area) and make it bright and inviting for the community. We also plan to use this side lot for events and additional outdoor sales space.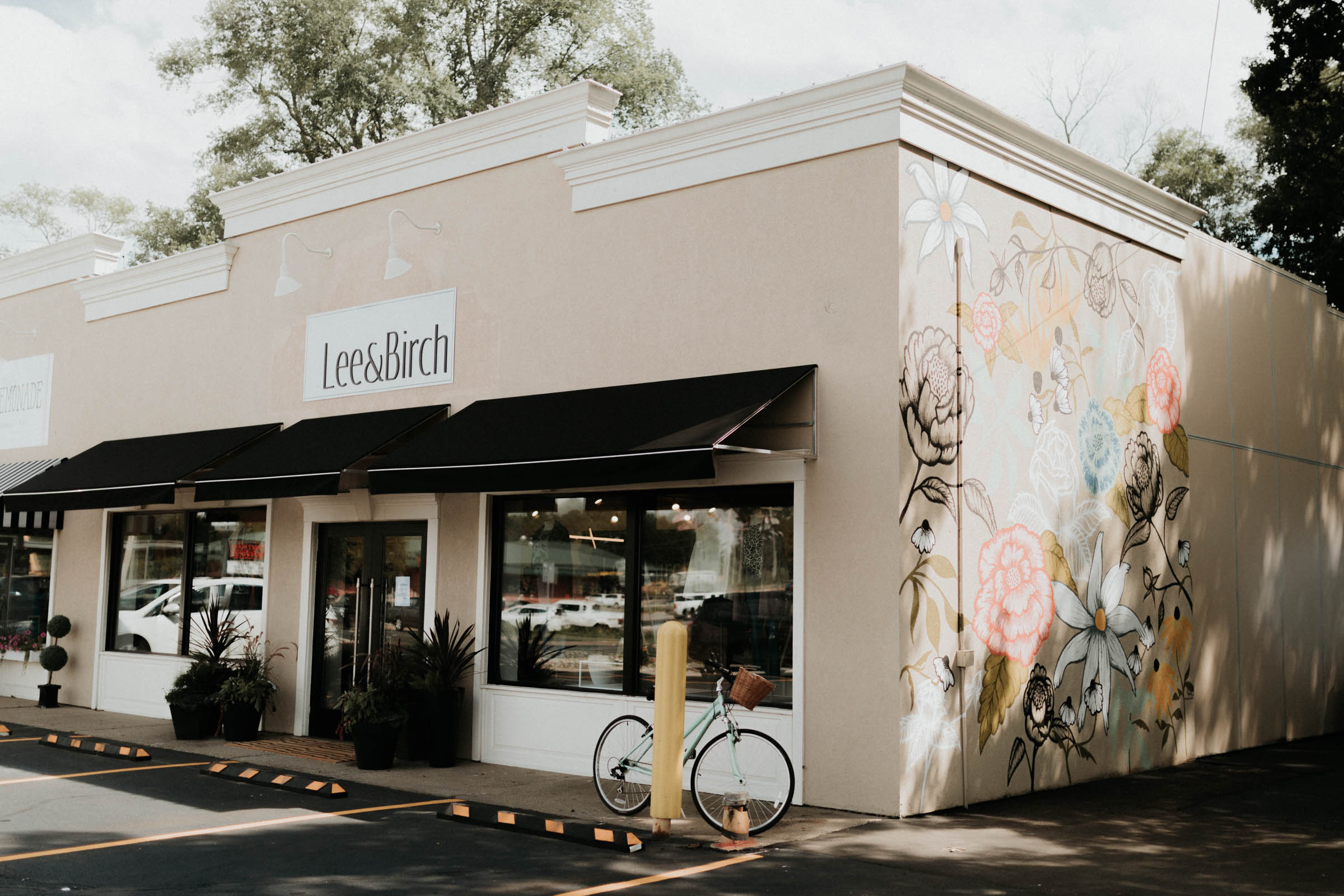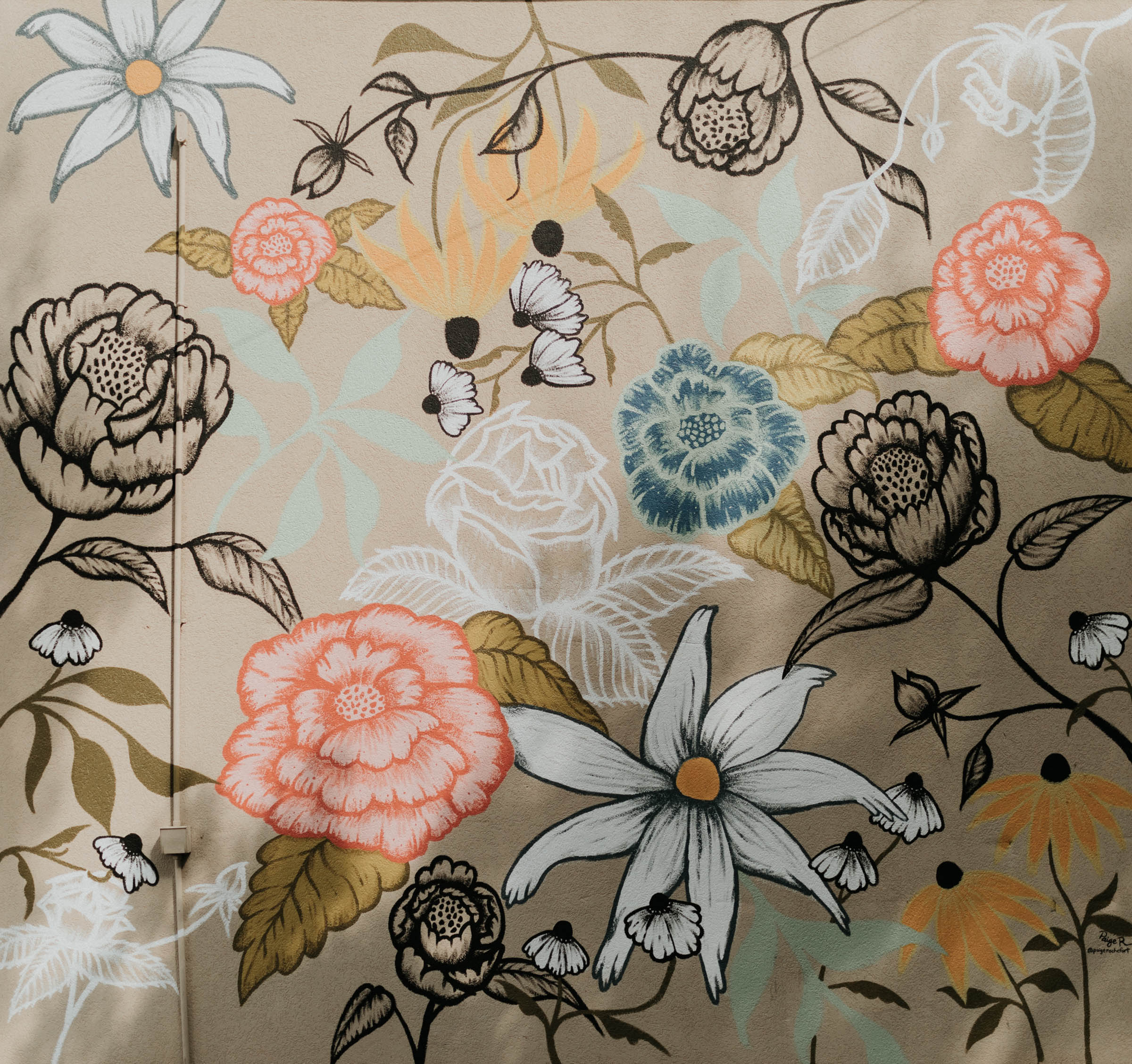 In order to get an idea of where we started, here are some before pics of the interior space after Dave's Glass moved out. We tore down all of the walls and opened it up to make one large area with storage & fitting rooms on the left side of the space + tore the acoustical tile ceiling down to leave it exposed.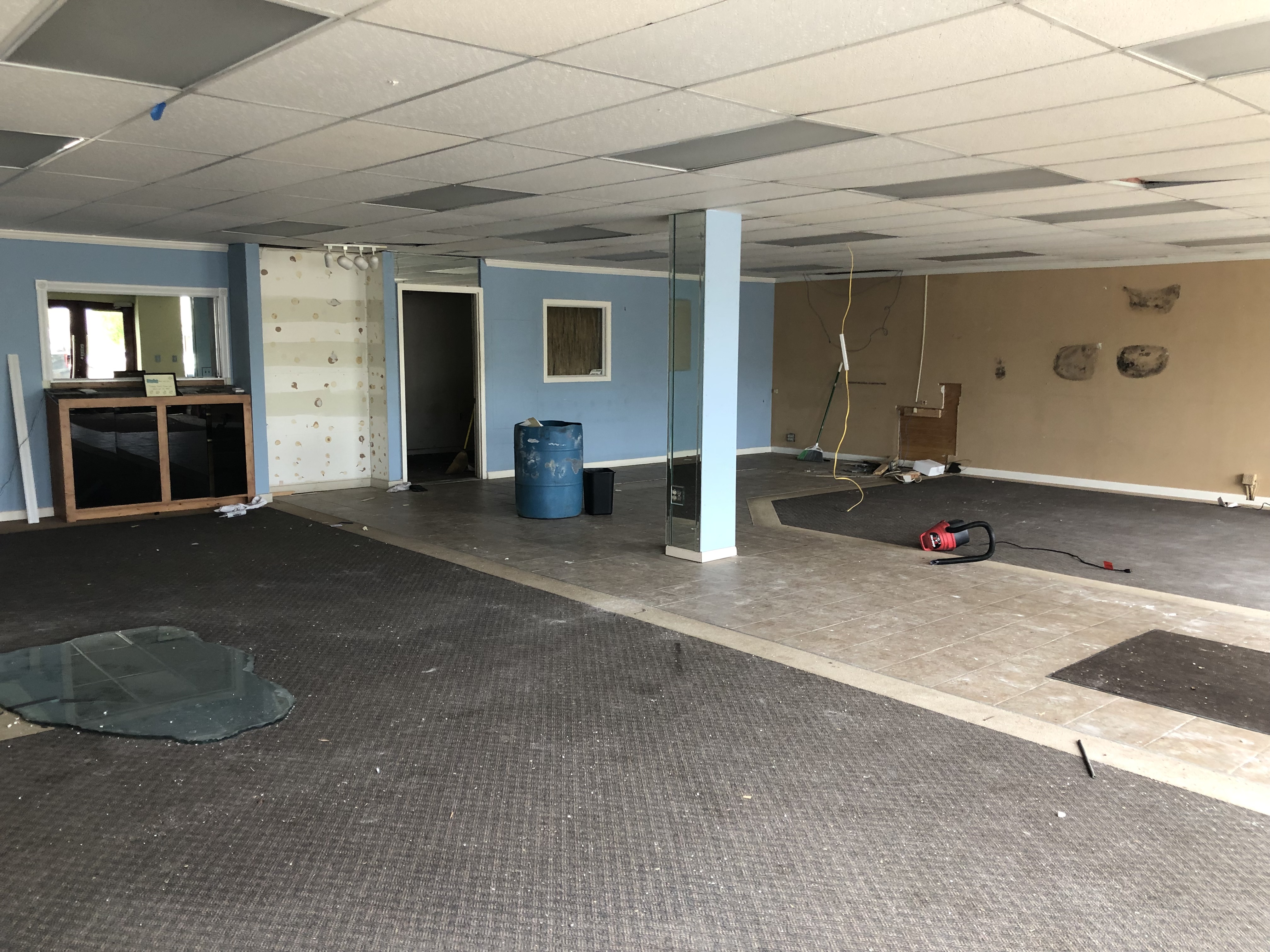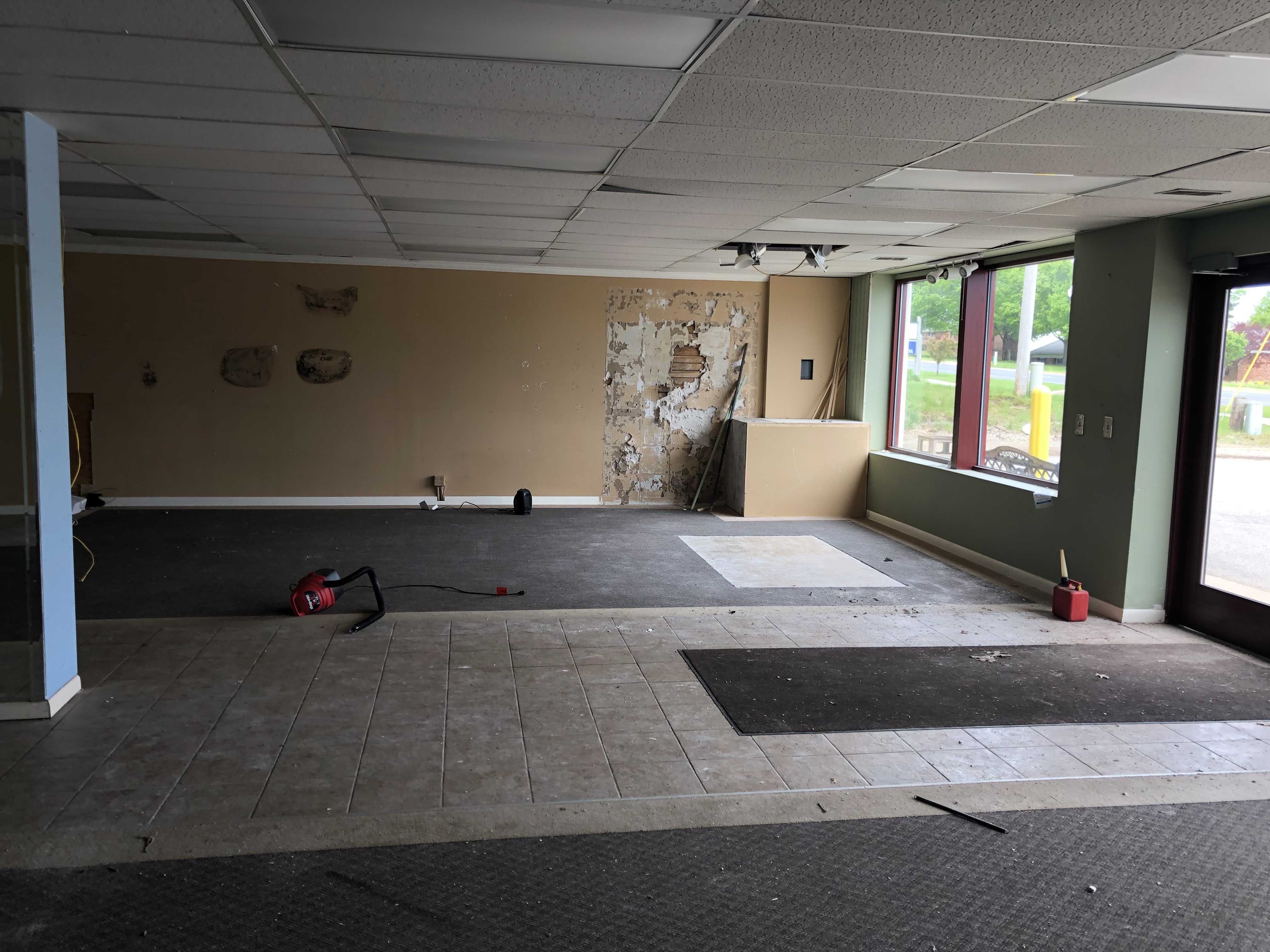 Now for the new, fresh interior!
When designing the new store, I knew I wanted a clean / crisp space where the product would be the focal point and throw in a mid-century mod vibe. FYI: I have a BFA in interior design, so it comes in very handy when designing a new store :)
I fell in love with the chevron laminate and designed from there. All of the walls /fixtures in the store are white with accents of black and wood tones.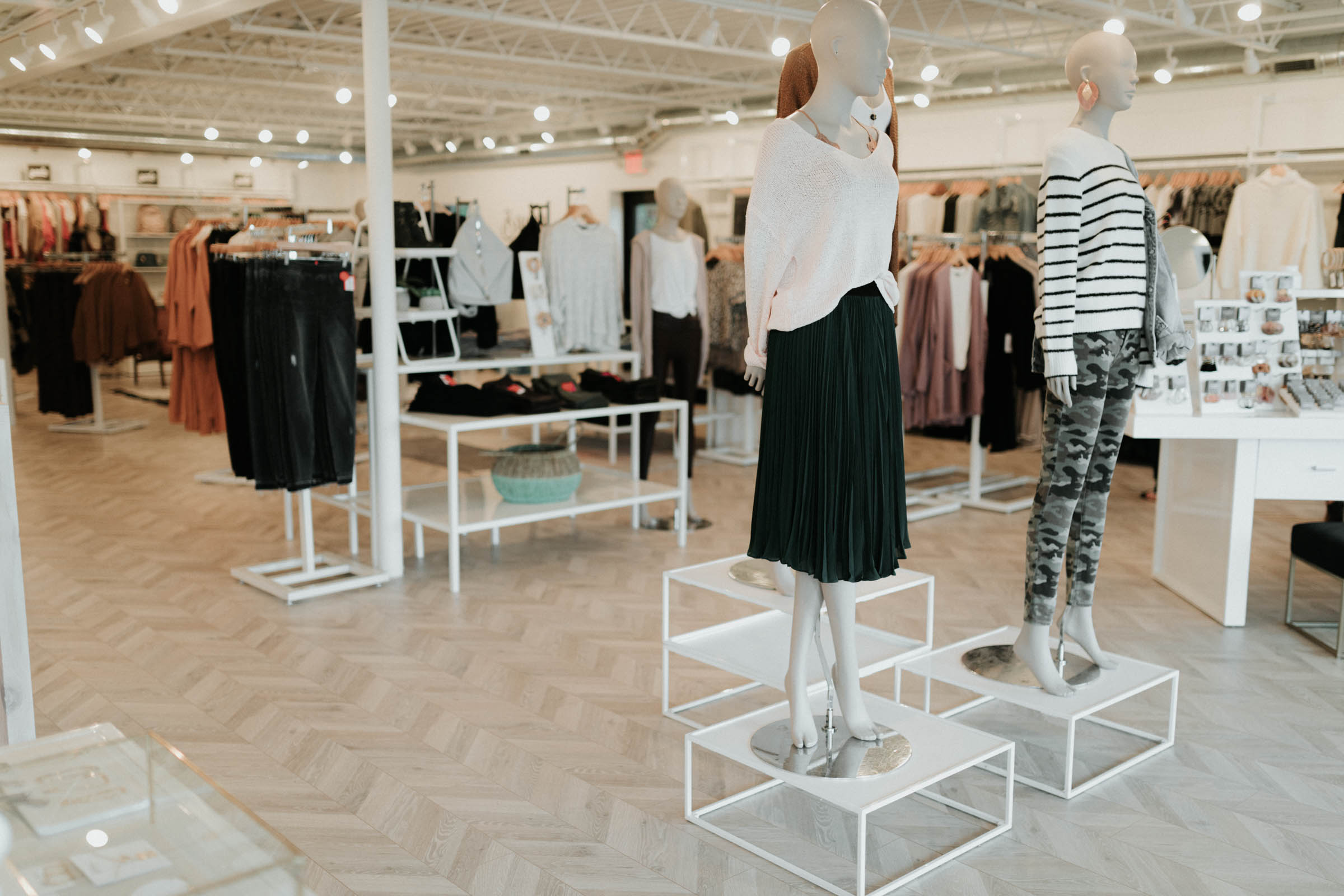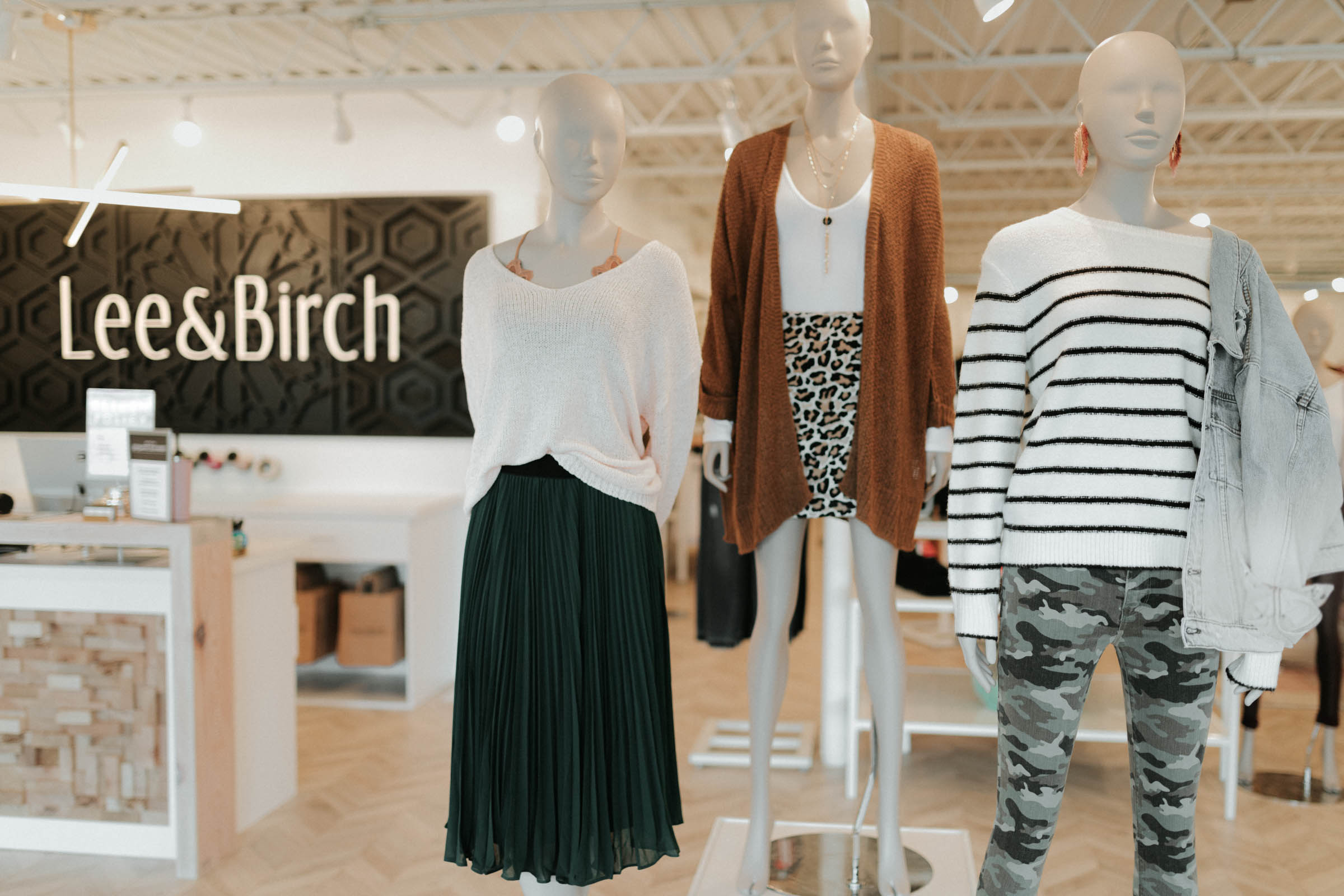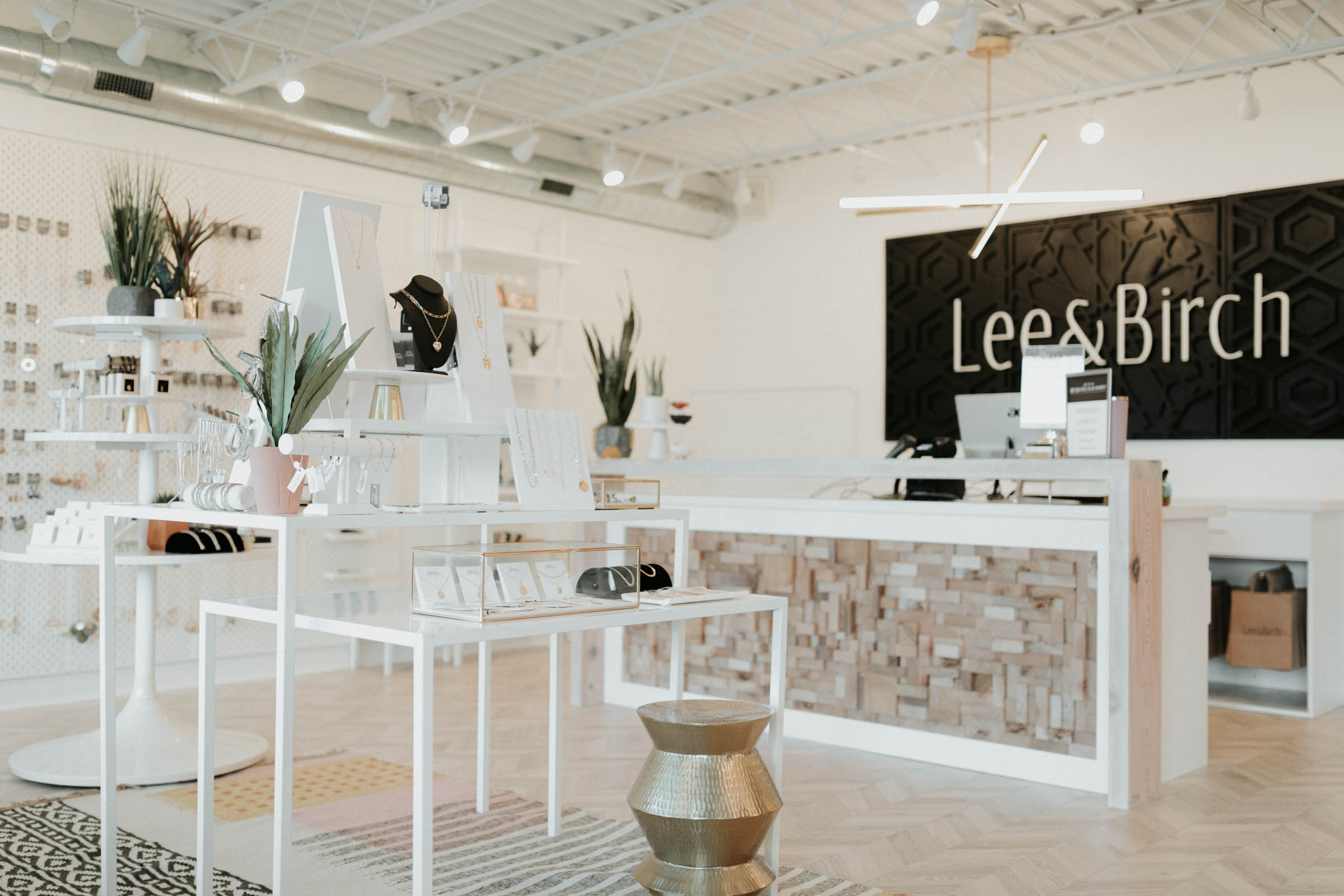 When I designed the cash/wrap, I liked the idea of a contrasting transaction counter that "wrapped" around the desk and I wanted to use a mix of white + natural woods.
Re.Dwell in Grand Rapids took my vision and made it 5x better than I had imagined. They spent almost 8 combined man hours piecing together the 'puzzle' mosaic.
For the sign, I purchased wood geometric panels from West Elm and we painted them black to really contrast the desk and the white wood Lee & Birch logo (laser cut by Feather & Birch).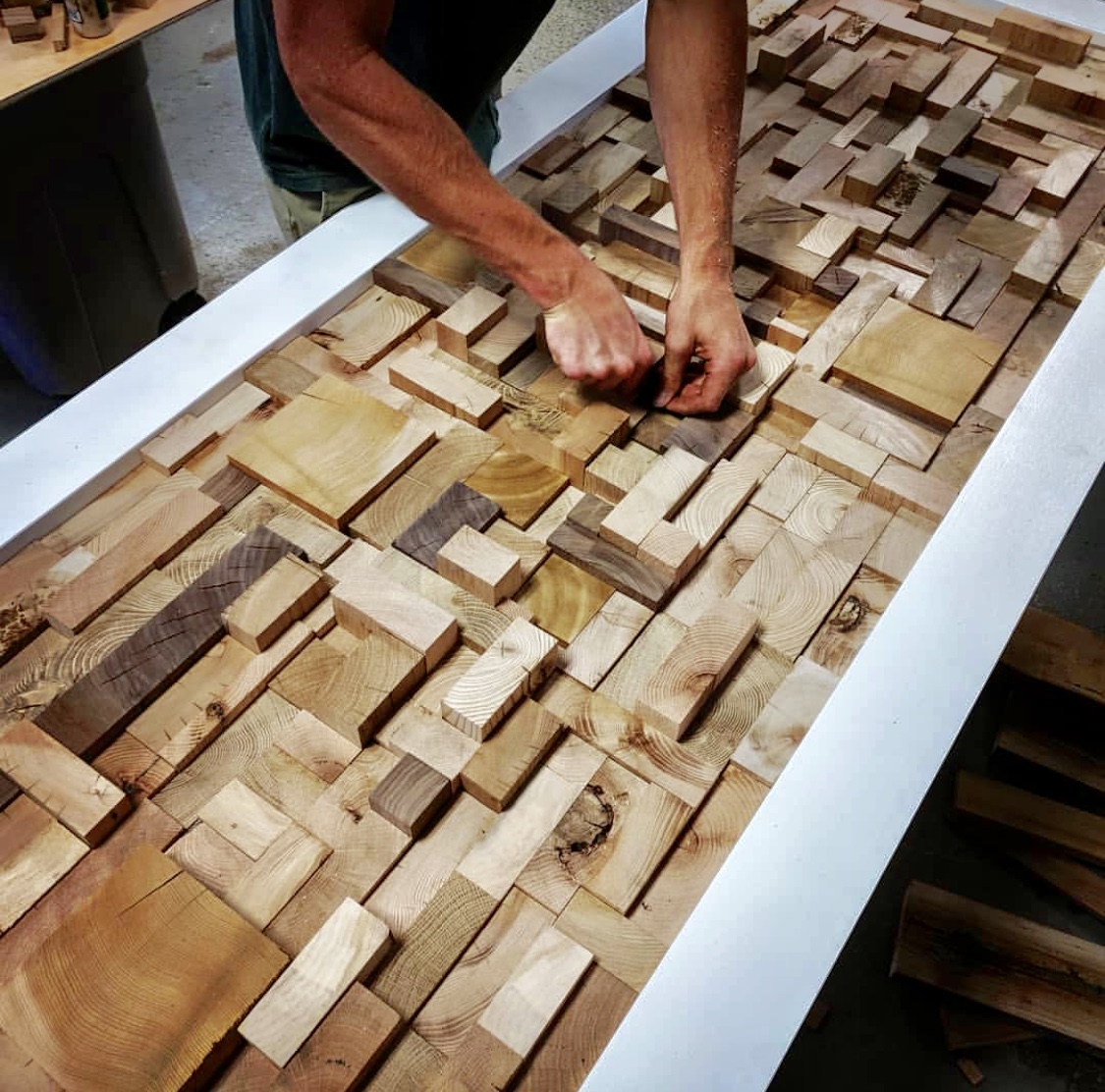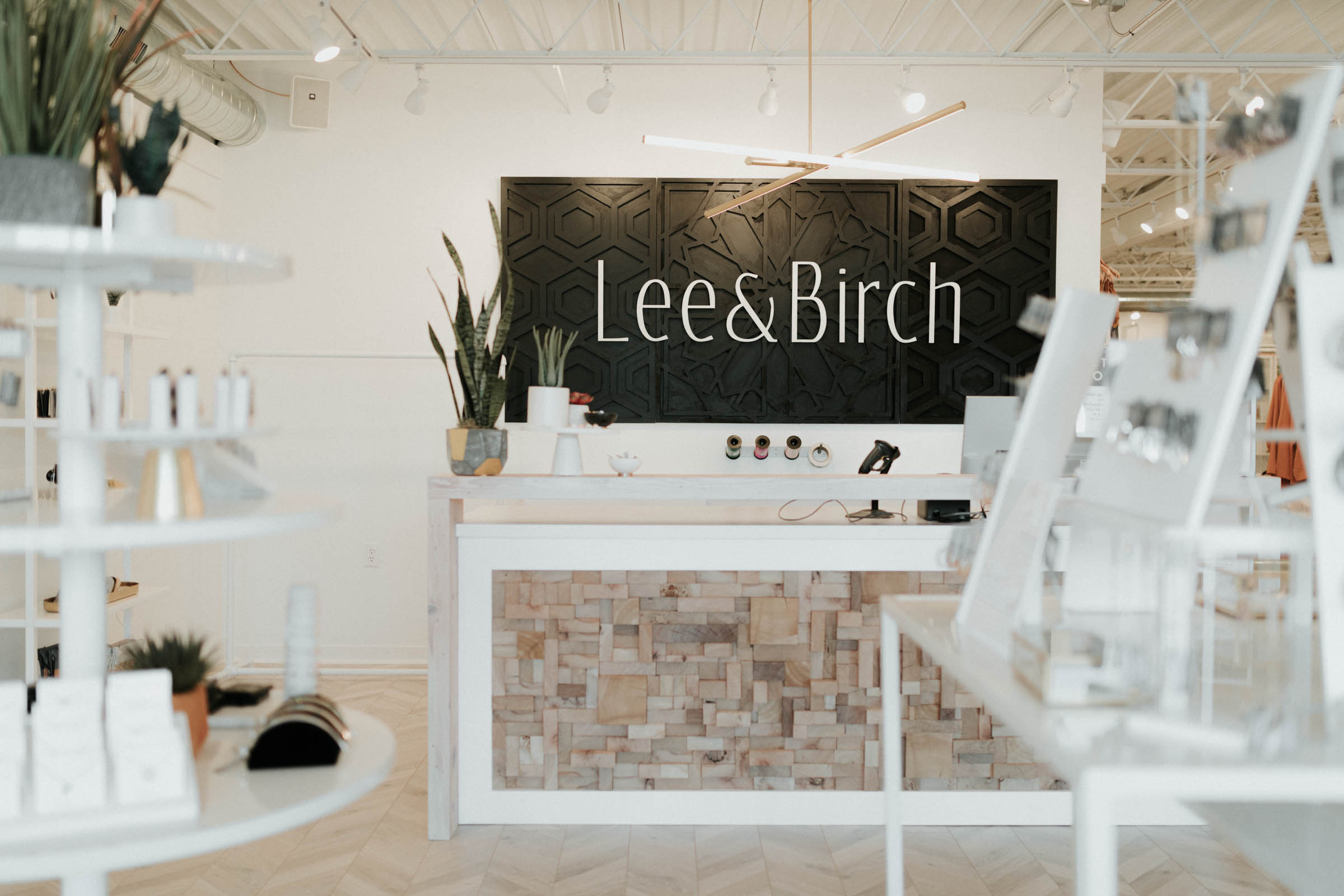 Either side of the front of the store houses our jewelry + accessories on solid white fixtures / shelves and a white pegboard wall.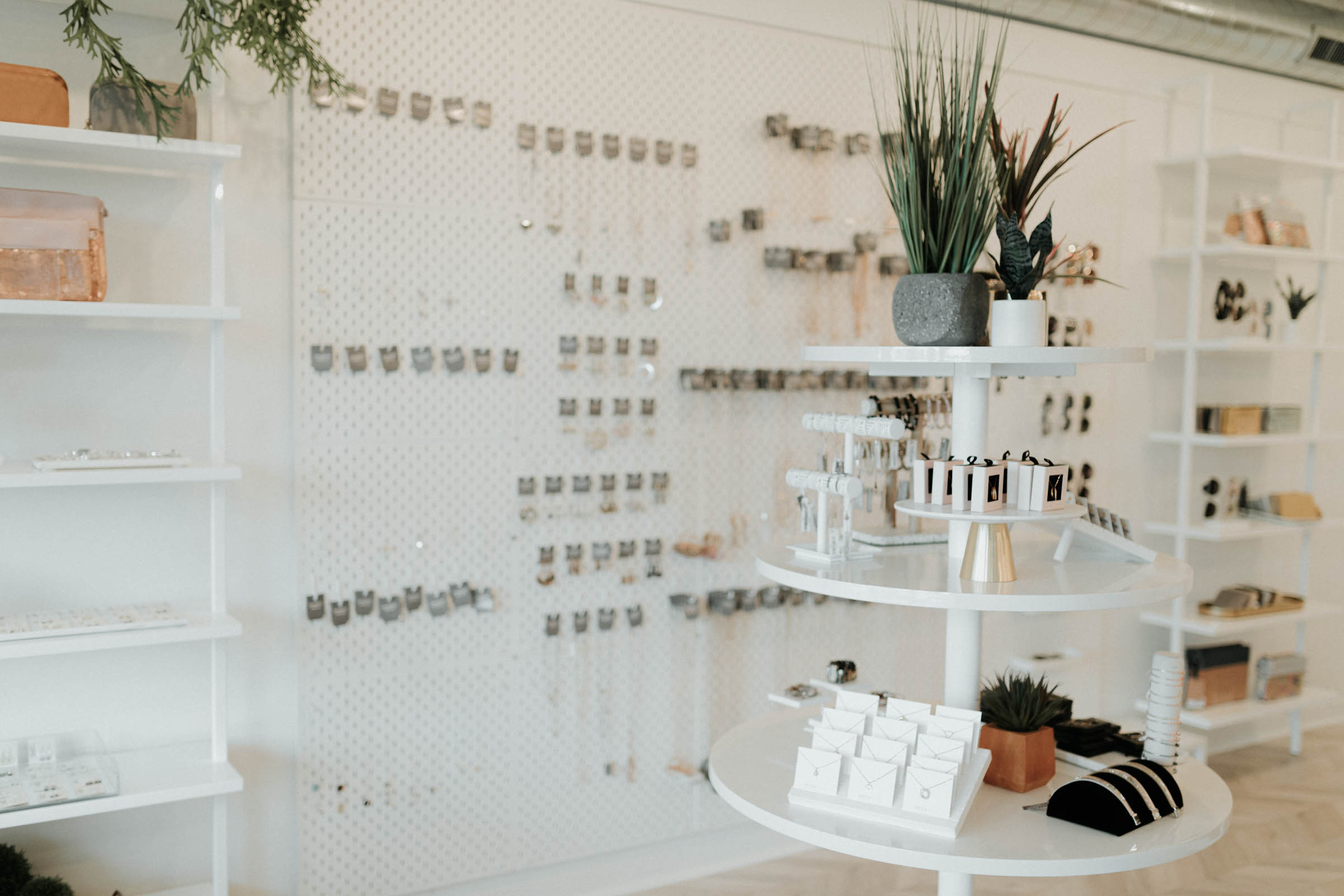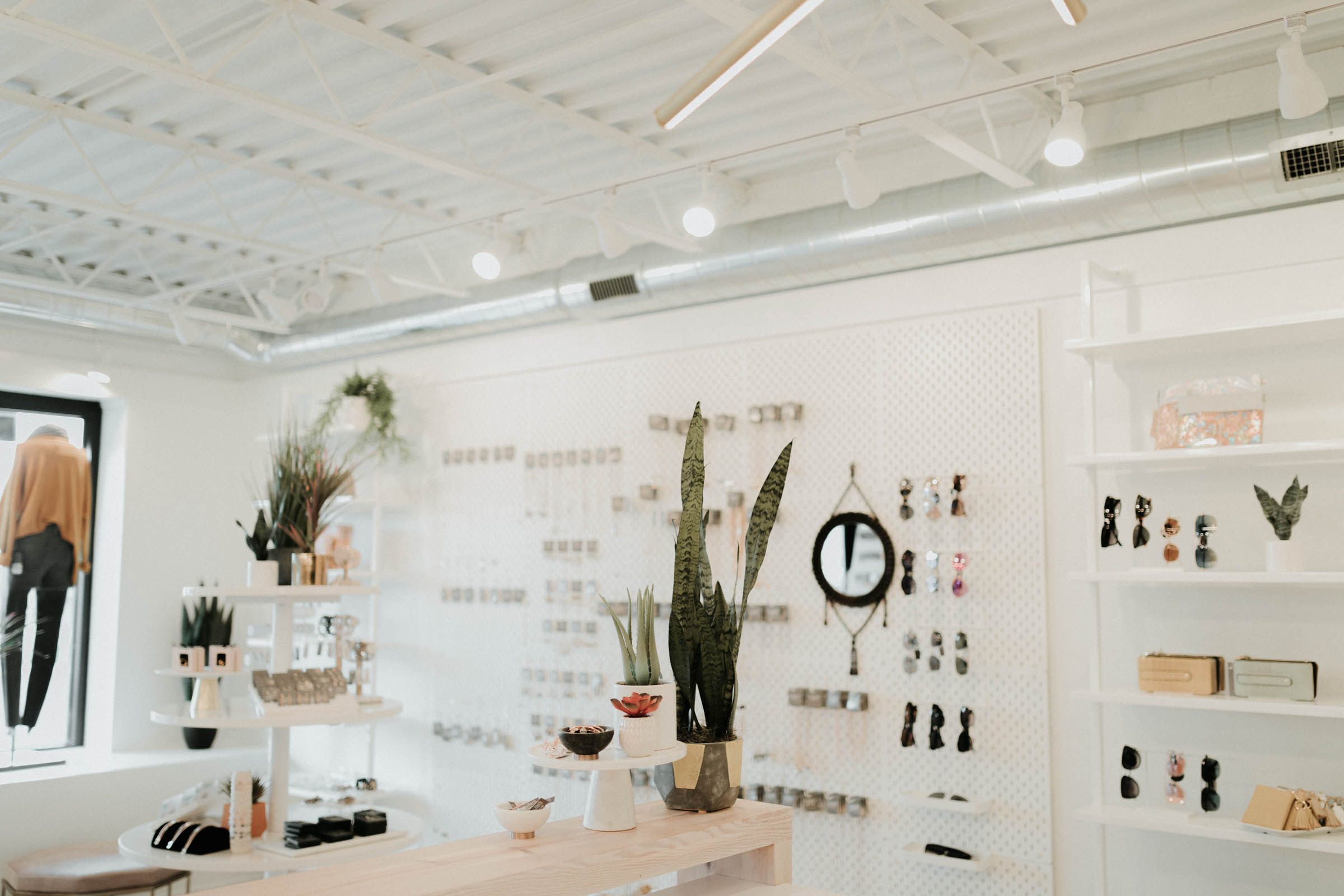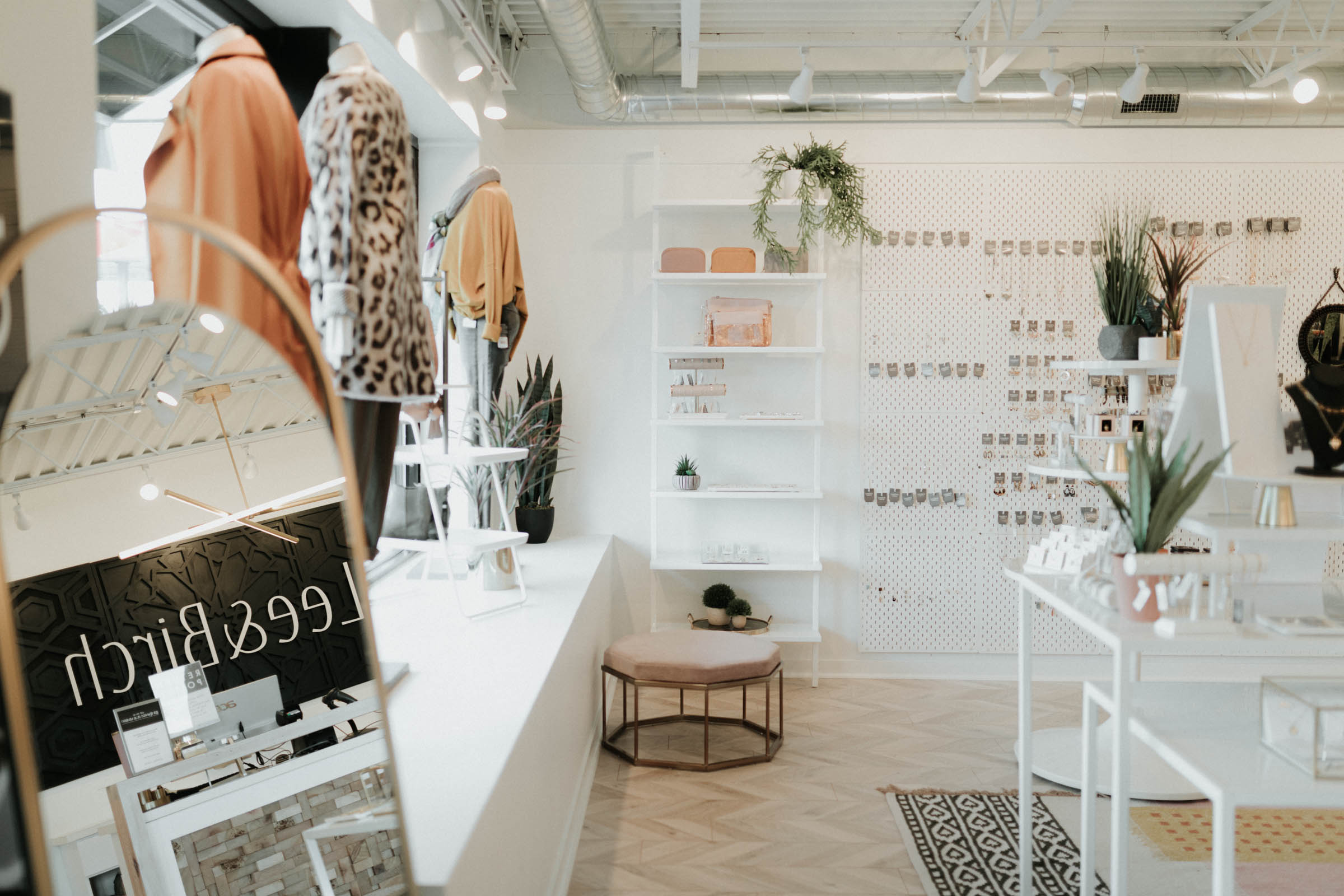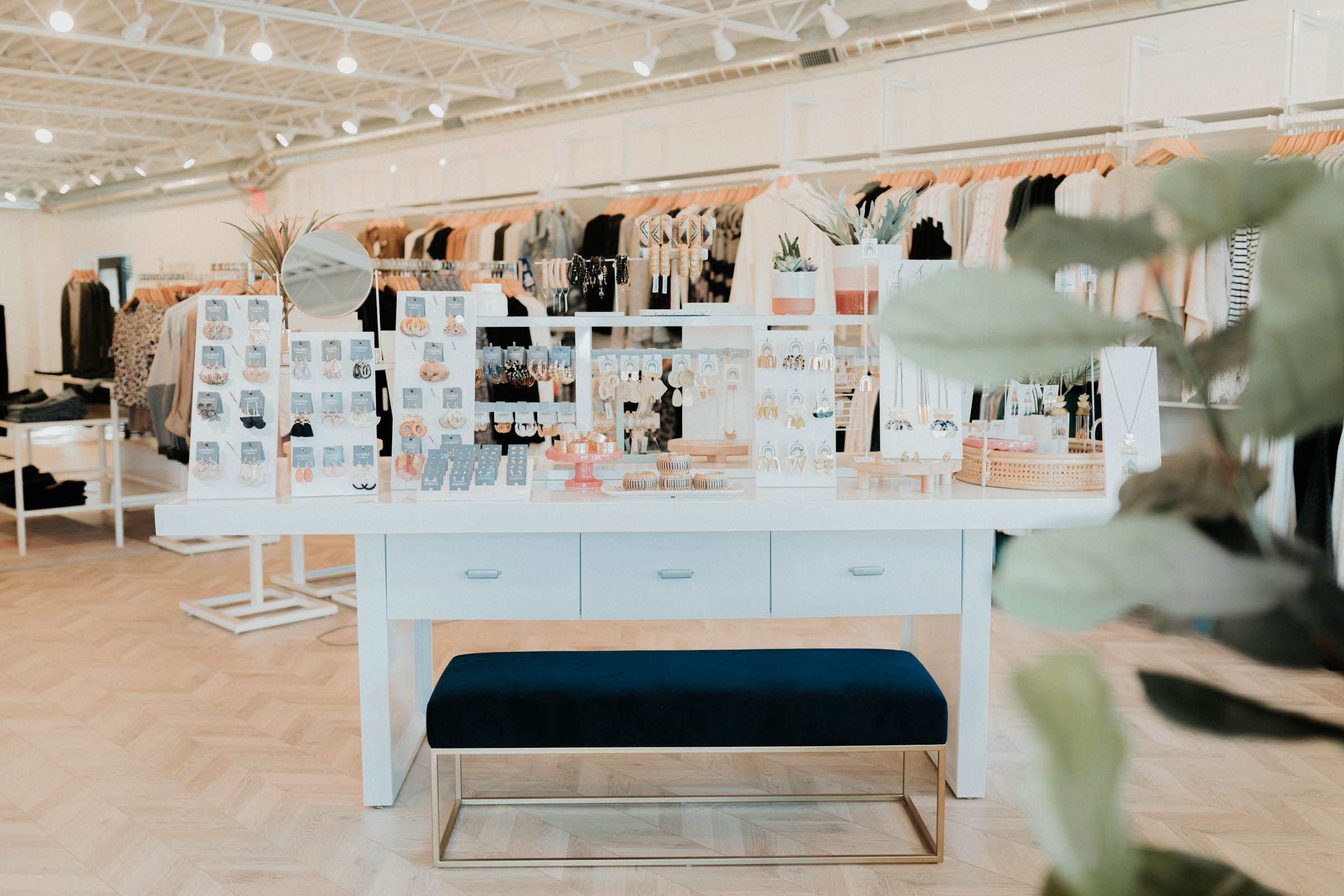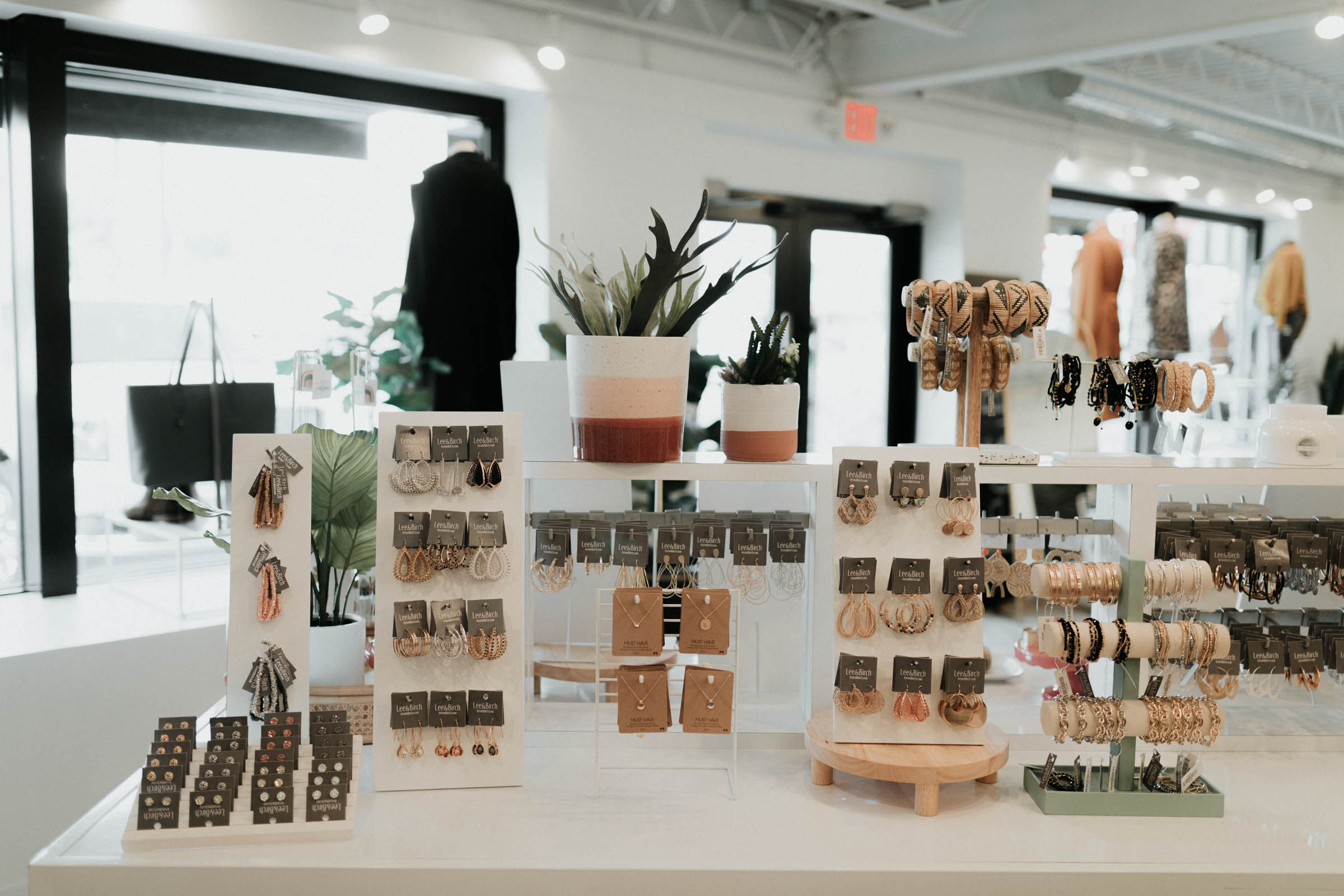 I wanted the Sorel's to really stand out on their own, so they have been displayed on our Modern Shelving custom white fixtures with a West Elm full length mirror between for try-ons. Adjacent to this is our lounge area. This is a great area to try on shoes / relax while waiting for a fellow shopper / open up for event space.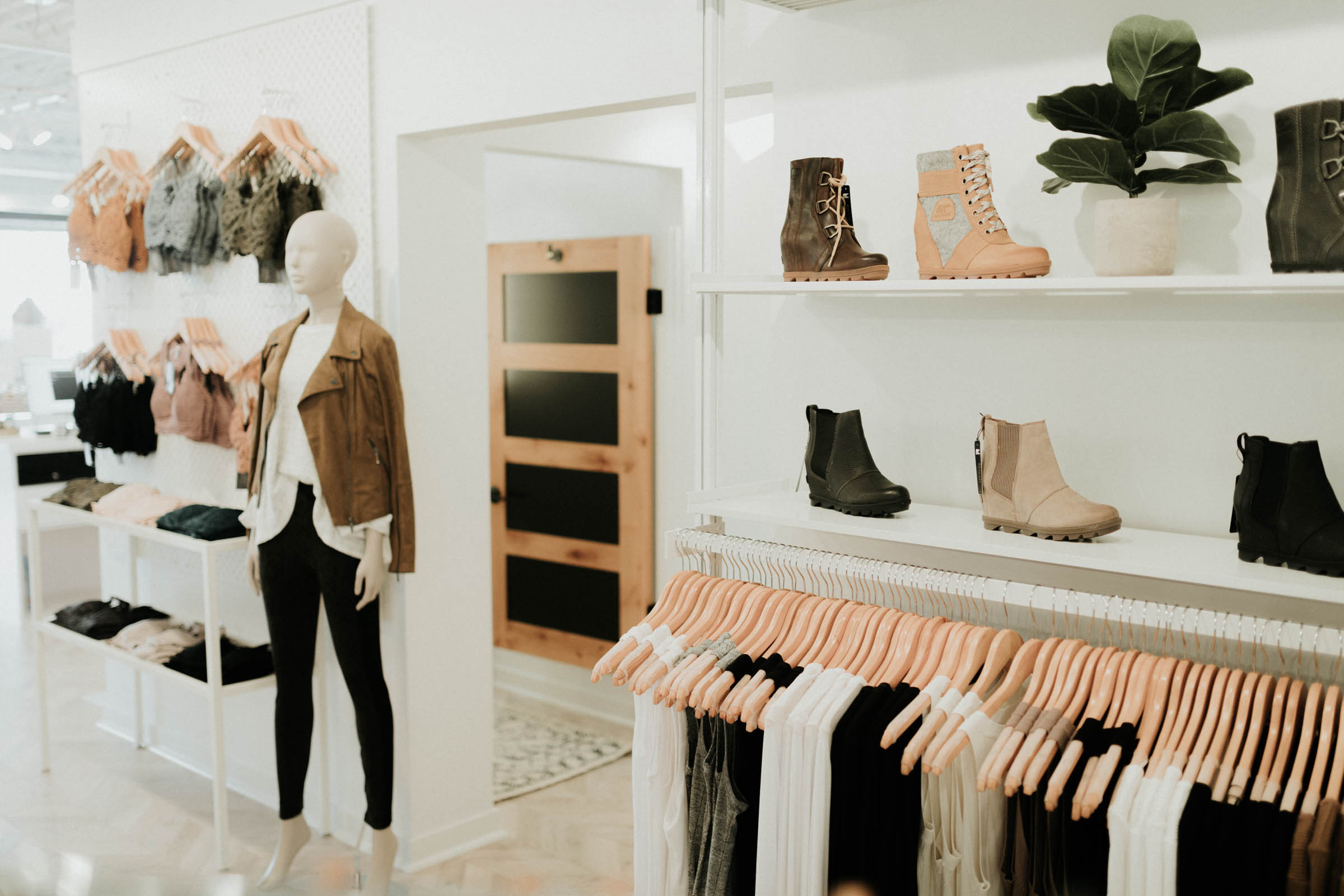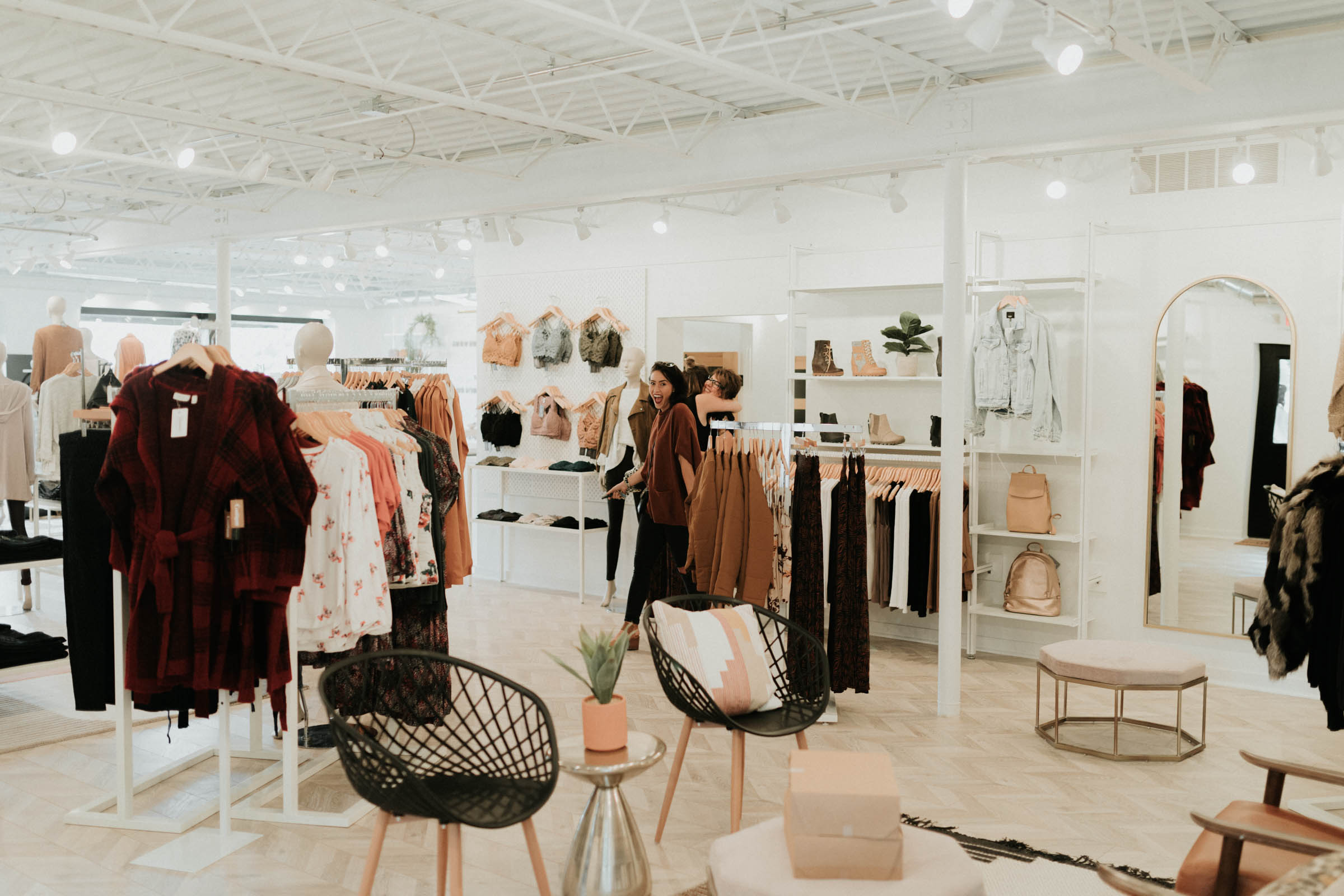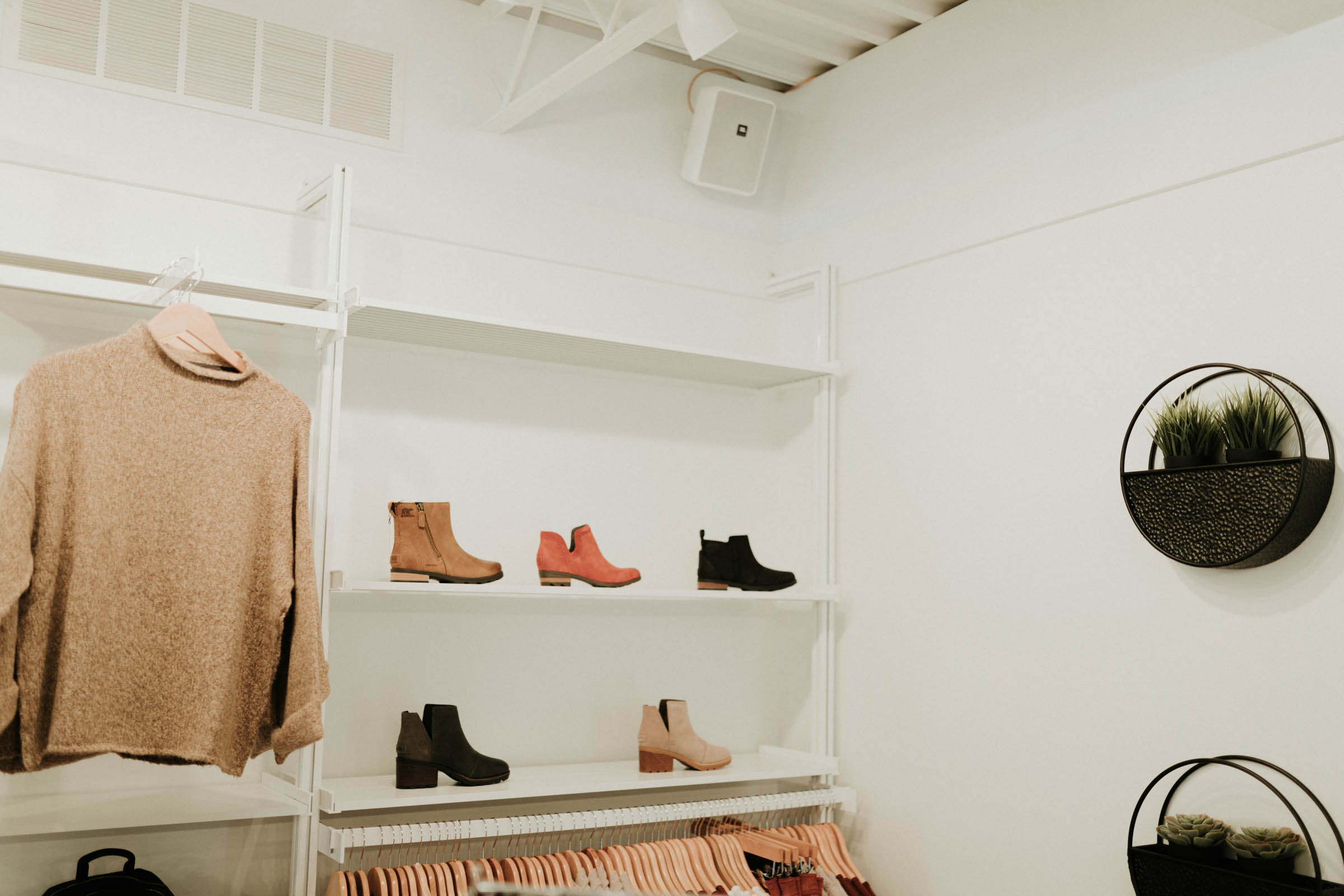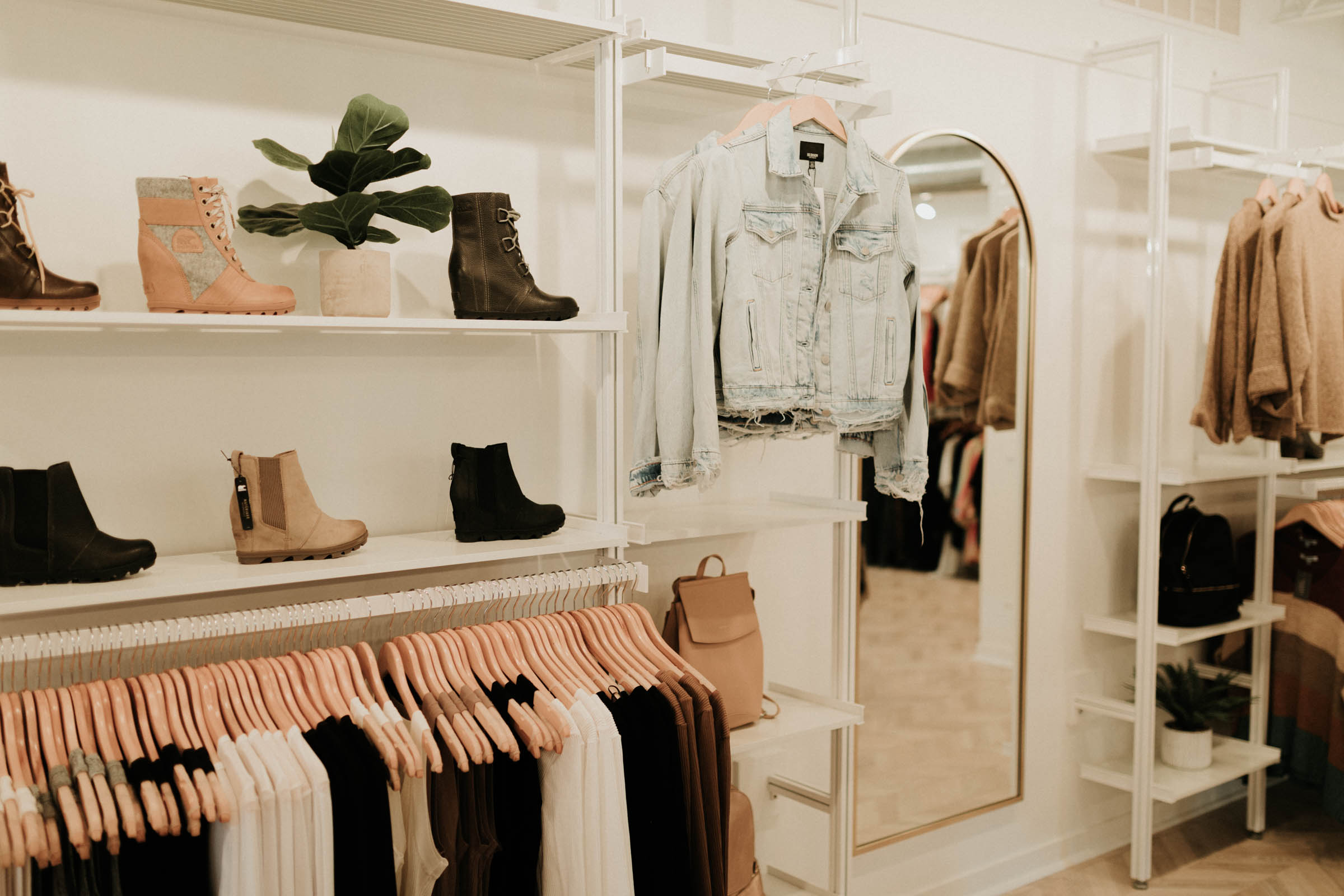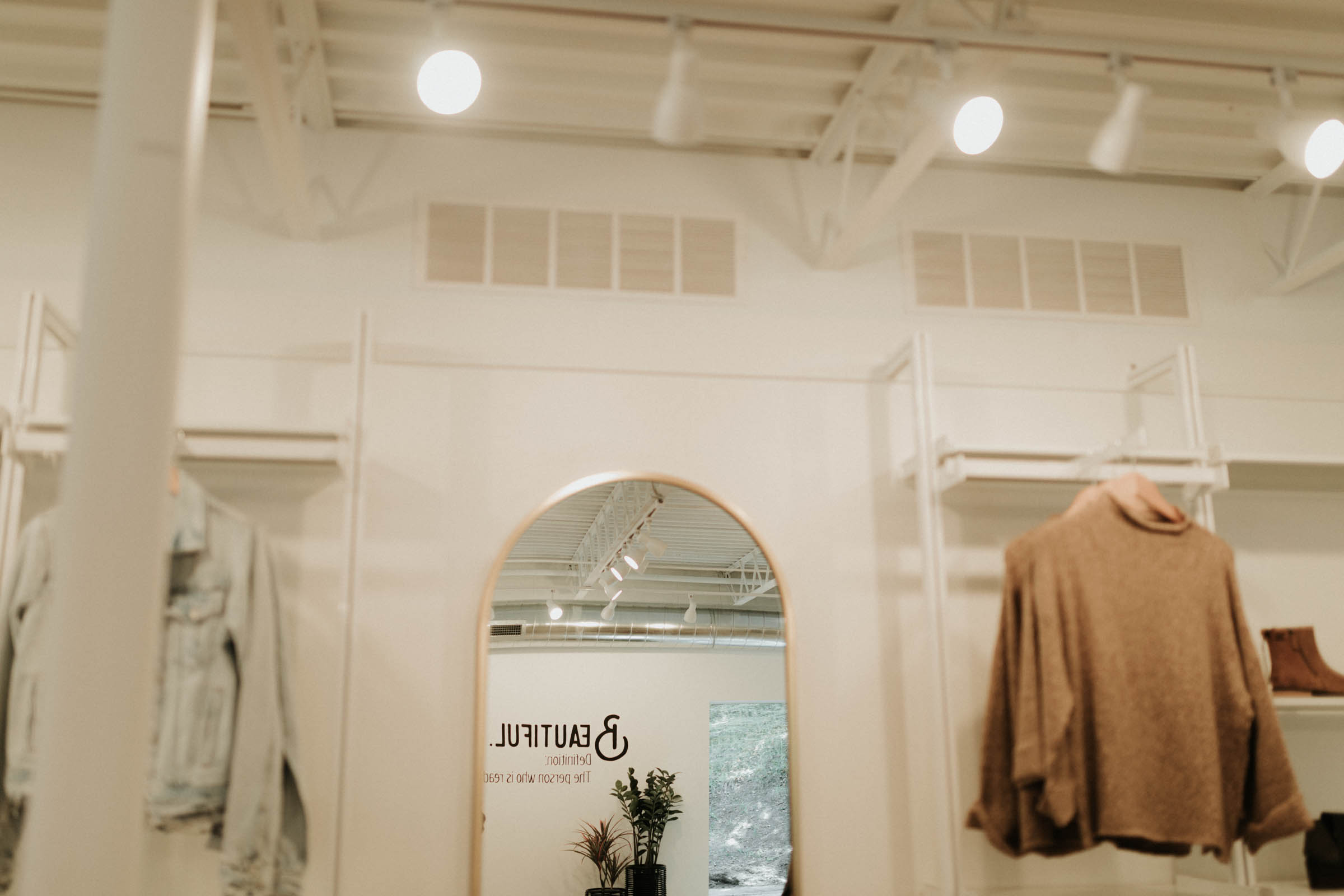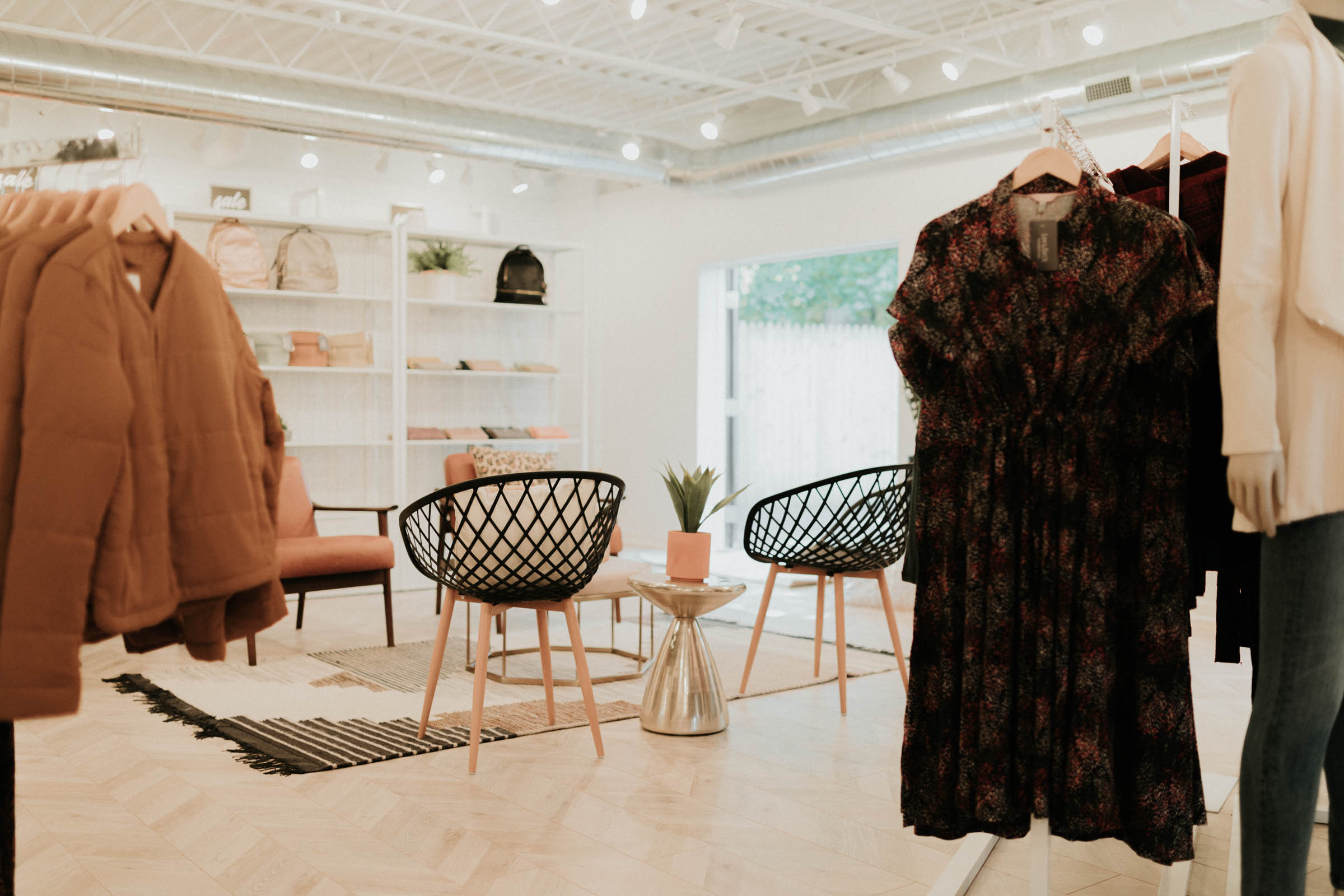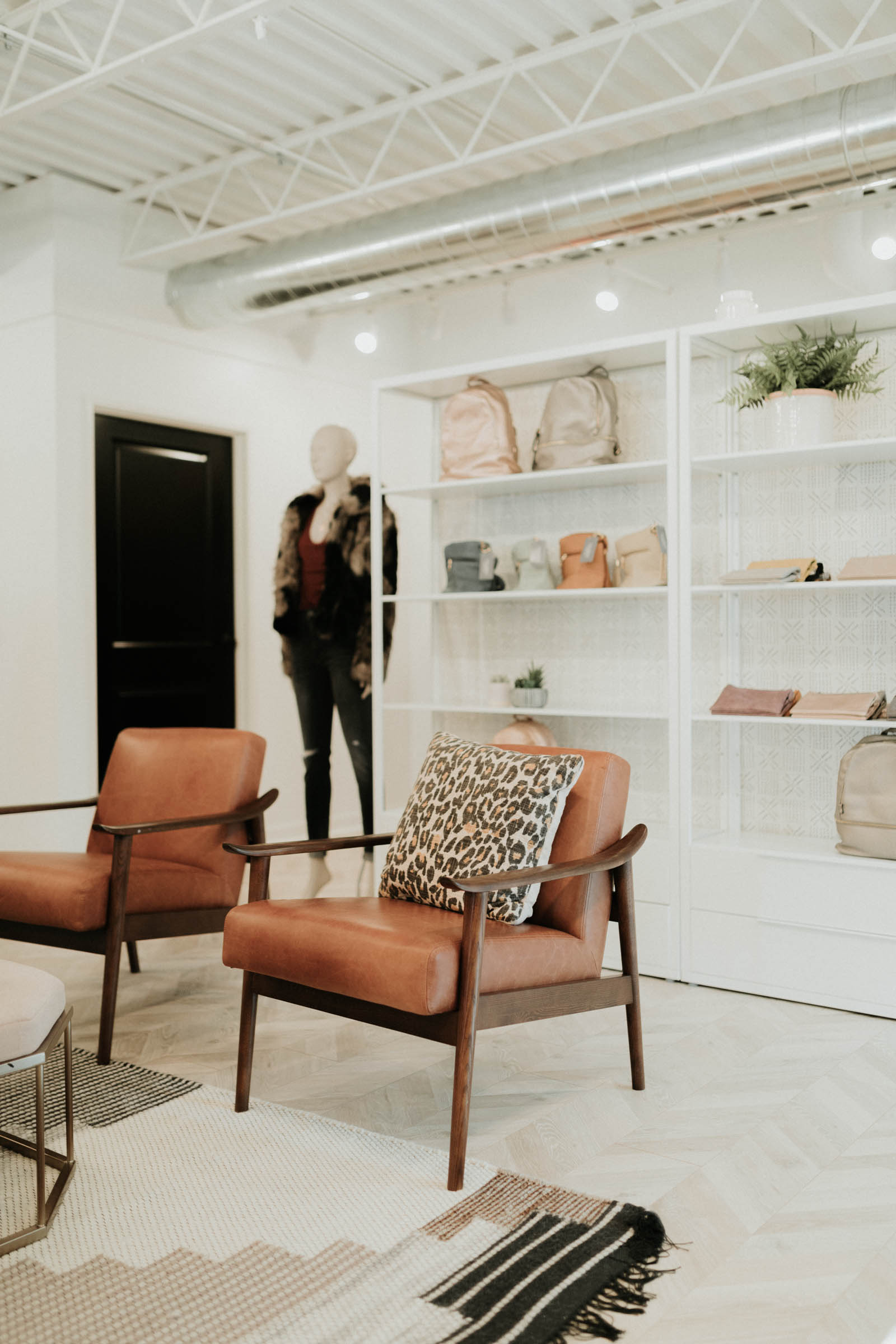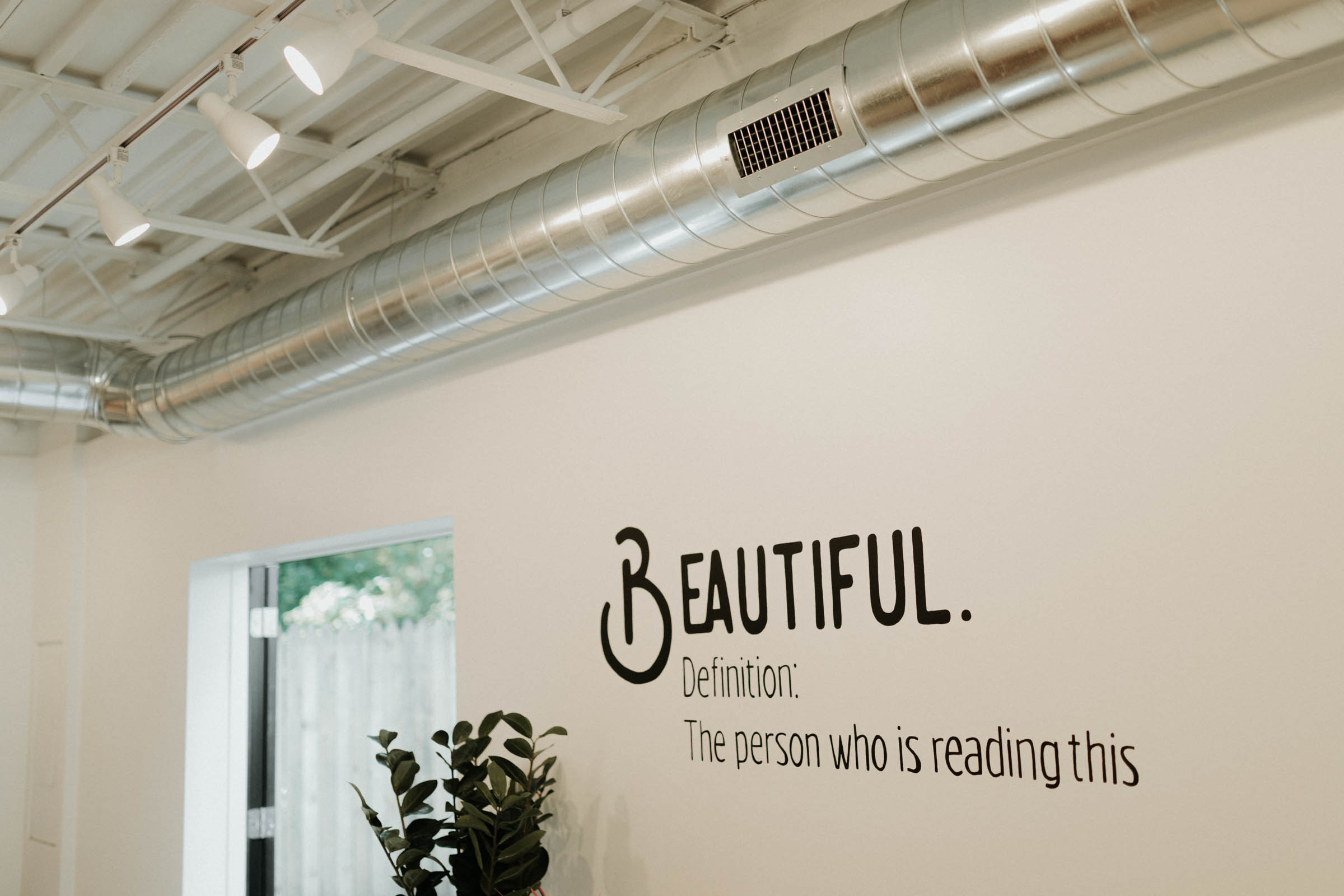 Custom fitting room doors give a nice contrast in the otherwise "boring" hallway.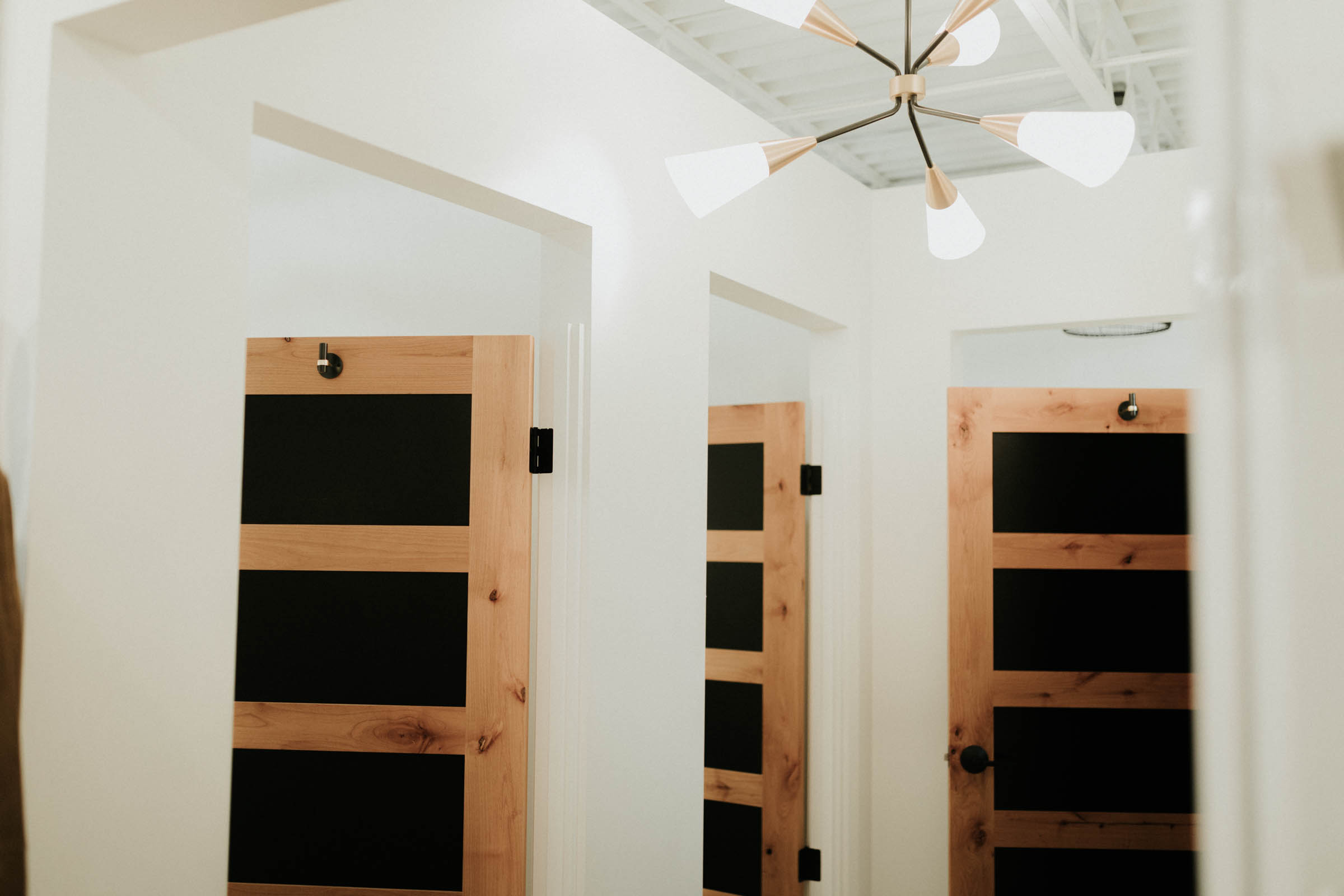 +A few more views of the store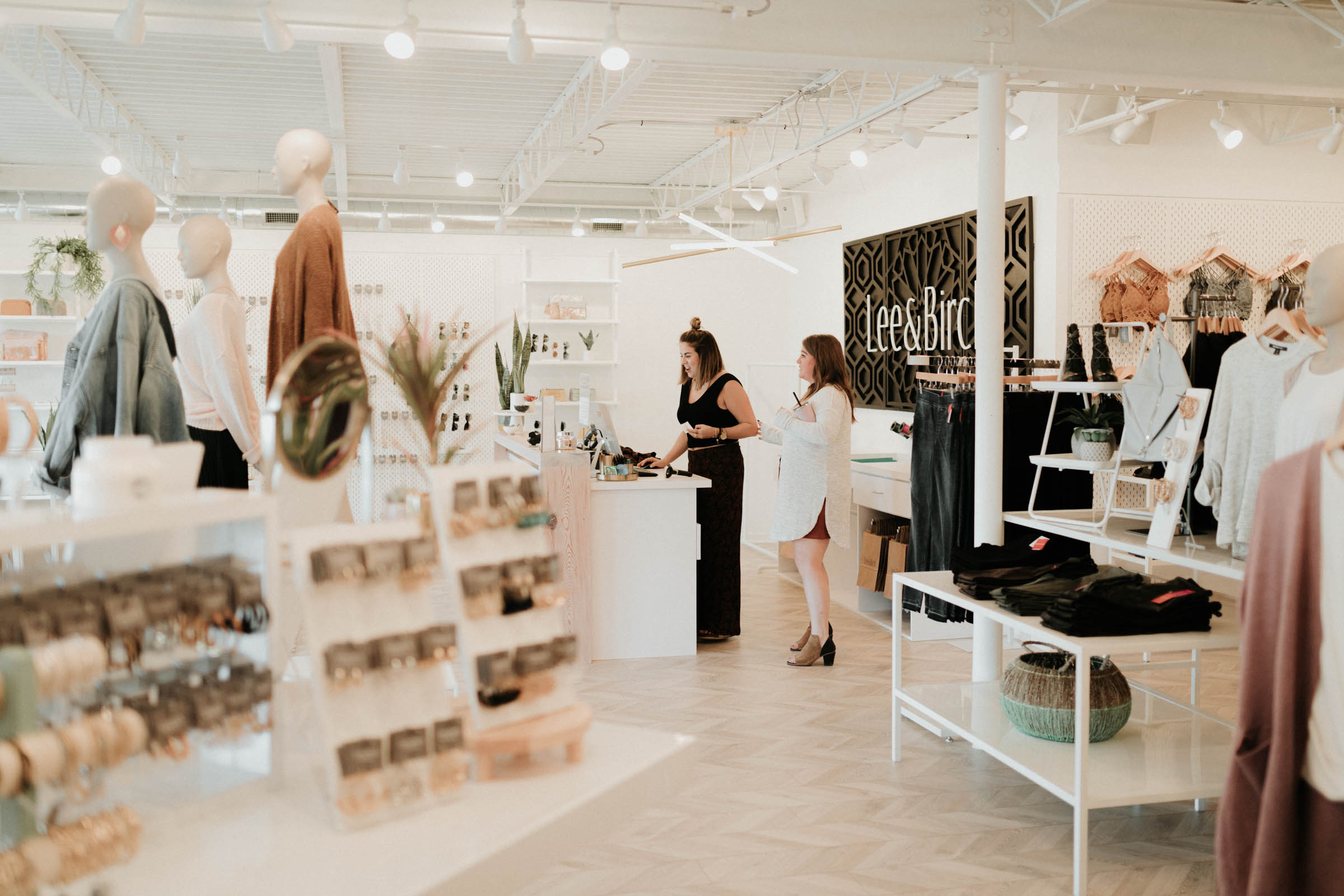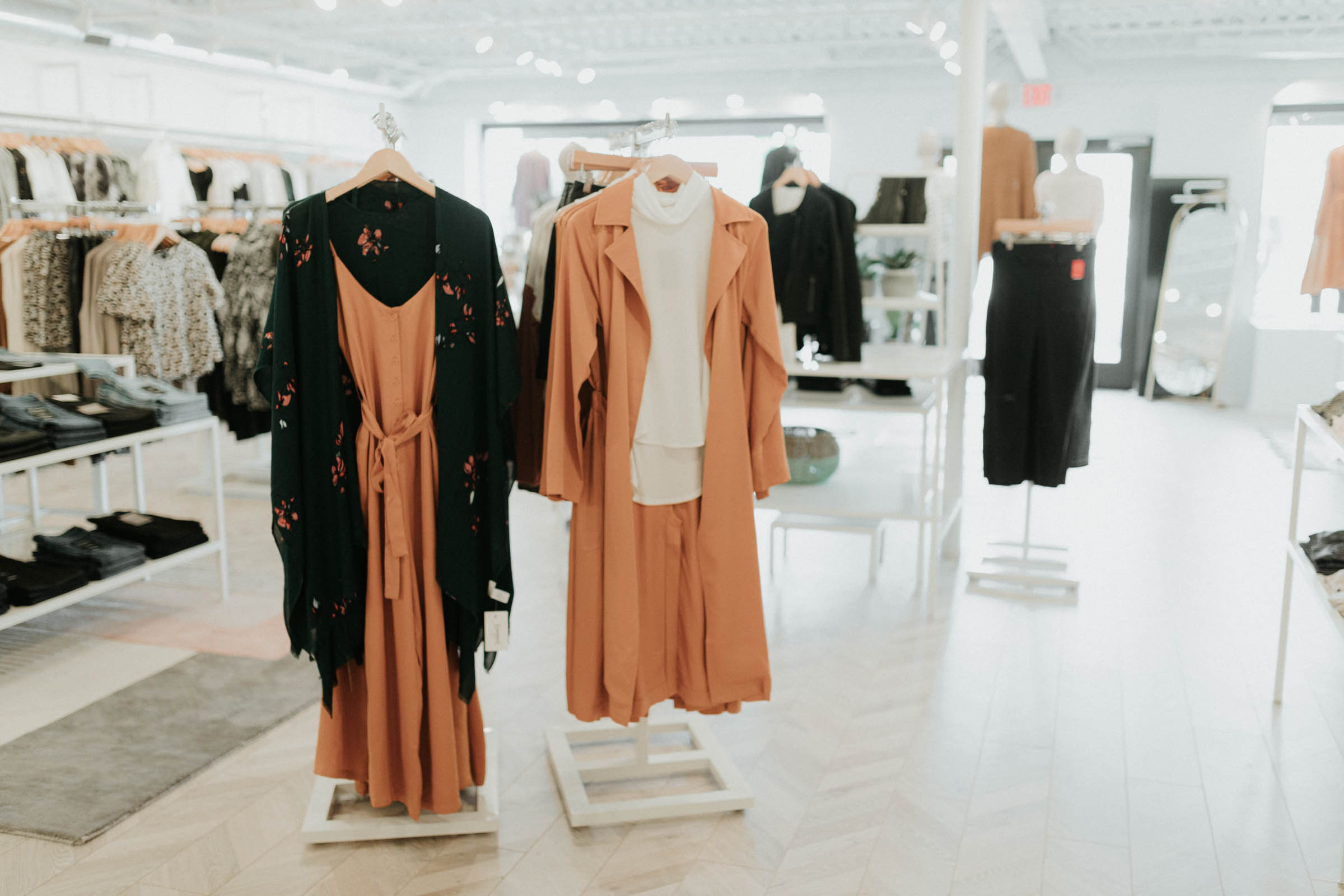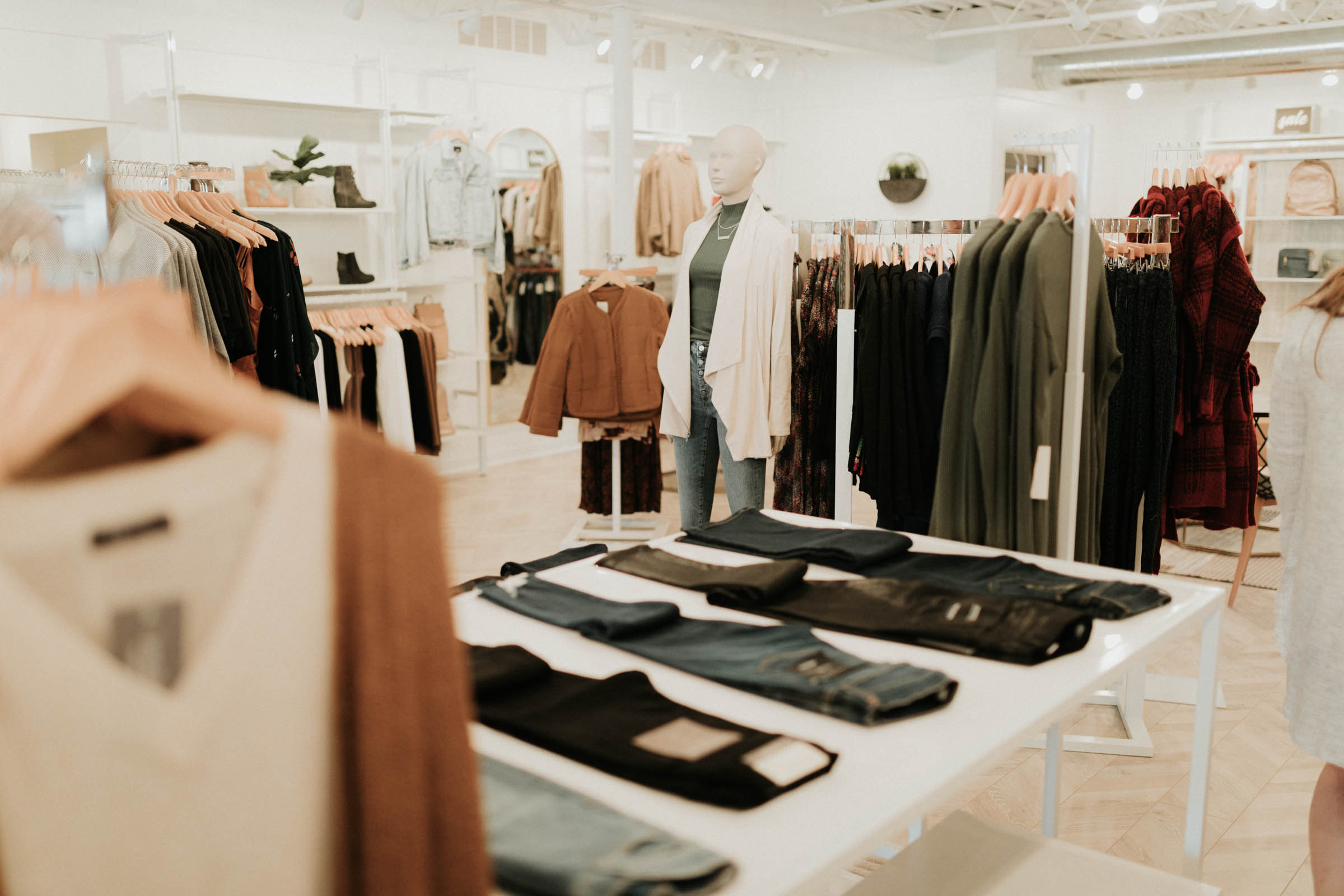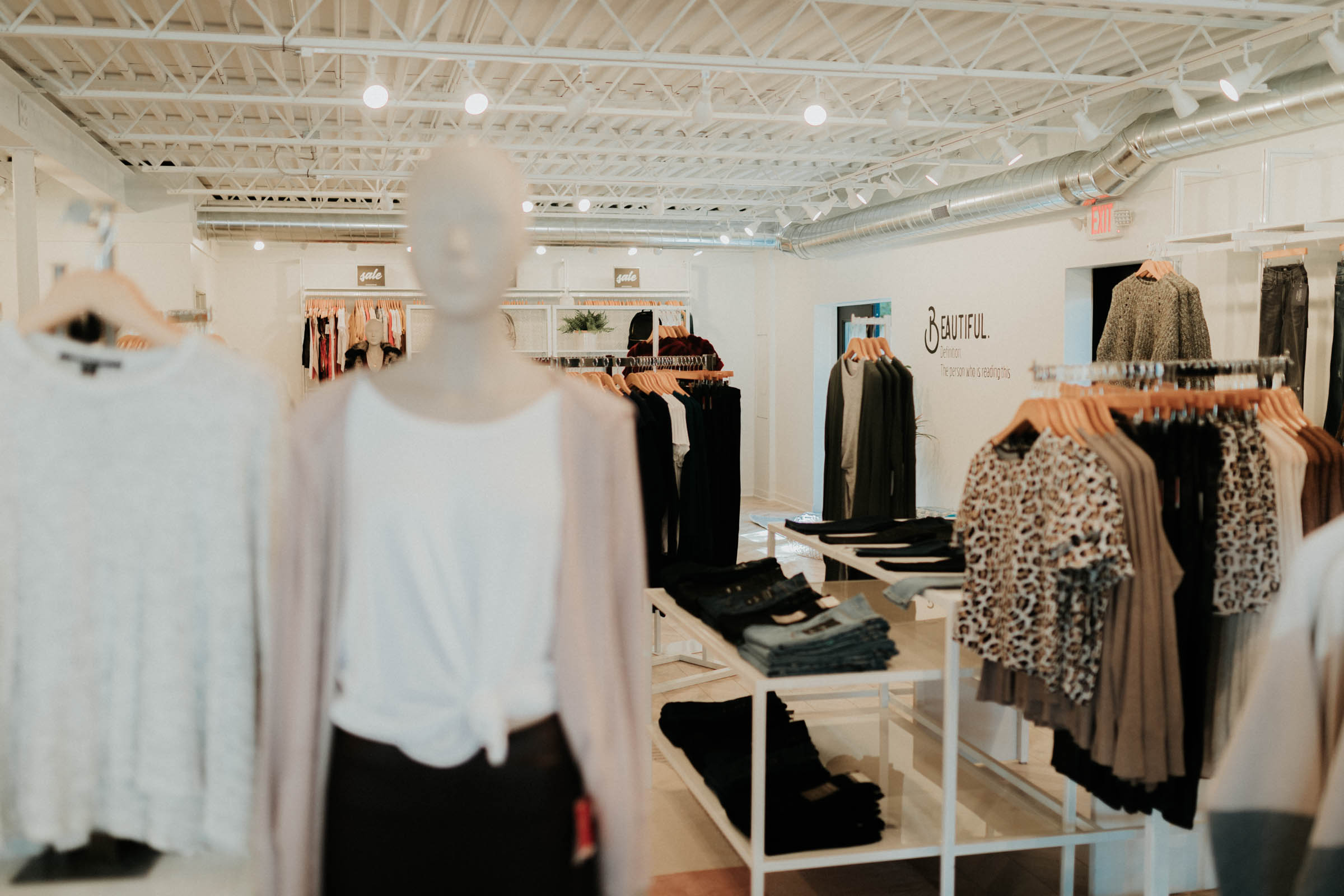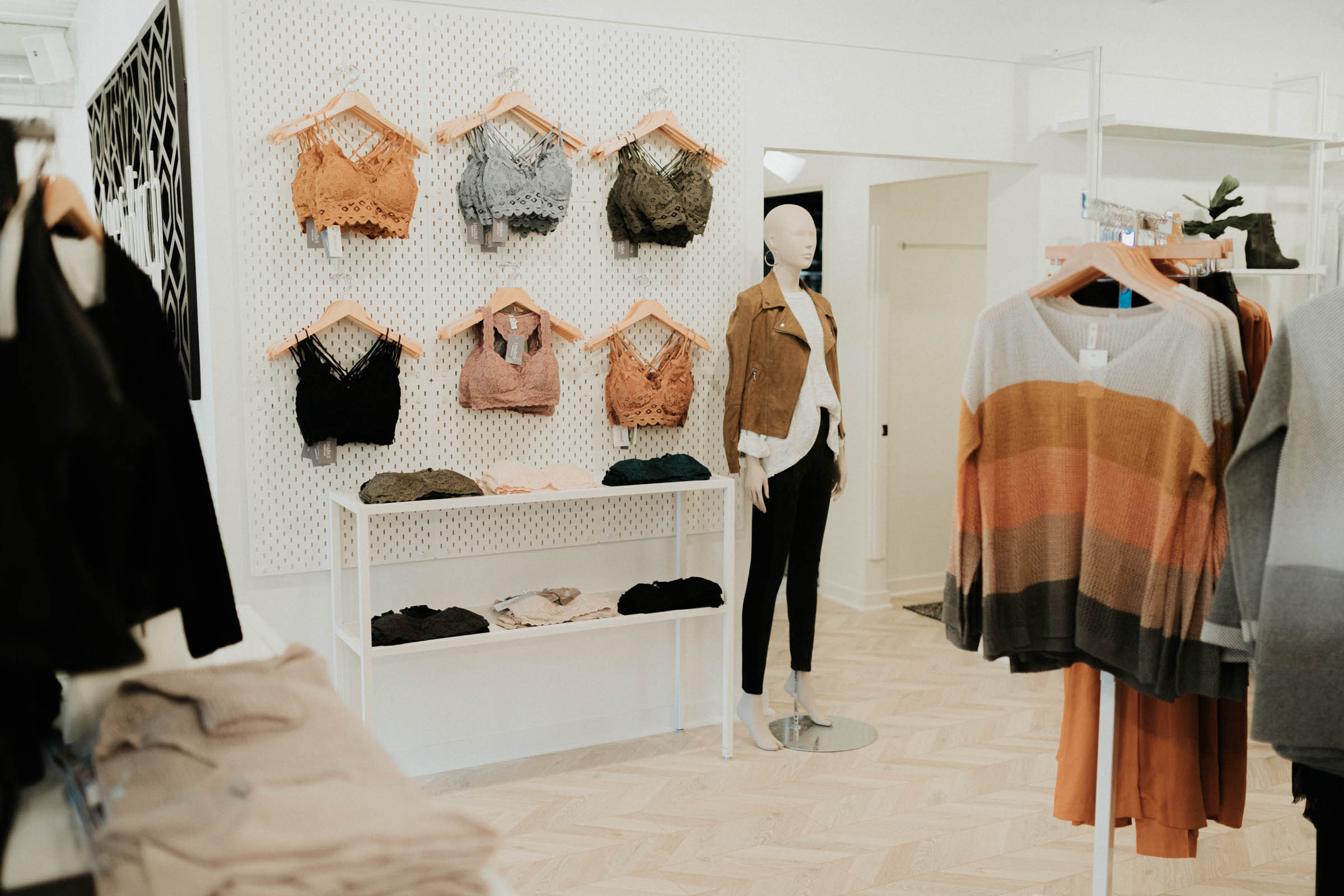 We have had such an amazing response to the new store and the support has been overwhelming! We can't wait to welcome even more new customers to our space and host special events + fashion shows!
**Our first event will take place on Saturday September 28, 10am-6pm. We are having a Grand Opening celebration with giveaways, swag bags, discounts and more! Stay tuned to our facebook + instagram pages for more info.
A HUGE thanks to an amazing L&B team + everyone else who worked on the project!
xoxo,
Nikki Gillette
L&B Founding Owner / President